The North Suburban Home Organ Society
Eastern Massachusetts Premier Group for Those Who Love the
HAMMOND ORGAN and OTHER
ELECTRONIC KEYBOARDS
Welcome to our new 2017 Concert Season.
Conveniently located in the main auditorium of the WOBURN, MA, SENIOR CENTER
144 School Street, Woburn, MA

Next NSHOS Concert is Friday, March 2, @1:30pm 2018 and features

Don Sansom & Eric Larson
Finally this looks like a GO! We had scheduled Don Sansom for our last meeting, but he developed a really bad cold and could not make it. Although I was ready to do a solo program I know that everybody was expecting a duet program and I took a chance and called our VP Jim Gregory. As good fortune would have it, he was in the area, about 10 minutes away when I made the call which was about a half hour before show time! "I'll do it!" Jim said after a few second's thought. So Jim and I did the concert and everything went very well. All that really matters is that we have a happy audience, and we did indeed have that. Sometimes in the past, I have observed at similar groups that a lot depends upon the desires of the person in charge of programming as to who gets to perform. Sometimes performers who are otherwise really excellent do not get a chance because somebody does not like the person in question. The important thing to remember is that the people who run groups such as ours have to put the audience before everything else. I am lucky, I like all the people whom we have had play for us, but whether or not I like the performer is irrelevant because as long as a performer can play reasonably well and please the crowd, that is what ultimately determines the success or failure of a program. That being said, however, it is getting more difficult to find people to play for us. The Hammond organ remains quite a popular and desirable musical instrument, but there are a lot fewer people who can play it now than there were even ten years ago, which fact is born out by how frequently you begin to see the same names on these pages. So once again, I put out the appeal. If any of you who visit our web pages are reasonably proficient on a traditional Hammond organ, contact us via the contact information on our home page. We'd like to hear from you. And if you play some other instrument instead of an electronic organ, we still invite you to contact us. As you see from reading about many of our programs, we regularly feature other instruments along with our two Hammond organs.
For our February meeting, Don Sansom, AKA The Genial Gentleman of the Hammond will finally join forces with me [somebody recently gave me the nickname arpeggio man although I have no idea why] as we do yet another piano/organ duet program. For this event we'll be using the house piano, which is now a Korg electric piano, and then of course our two Hammond consoles, the X66 and the C2. Having both a traditional Hammond (C2) and then the futuristic X66 available makes for some interesting programs and also it's a great study in both contrasts and similarities as the C2 is a very traditional Hammond tone wheel instrument whereas the X66 is really a specialized hybrid instrument which uses both tonewheels and also the newer top-octave master-pitches and subsequent frequency-division technology of many other electronic organs along with both harmonic synthesis and formanting (all described in detail in the various technical articles on this site).
I have added below a couple of pictures from our most recent concert with Mike Stelzen and Jim Gregory.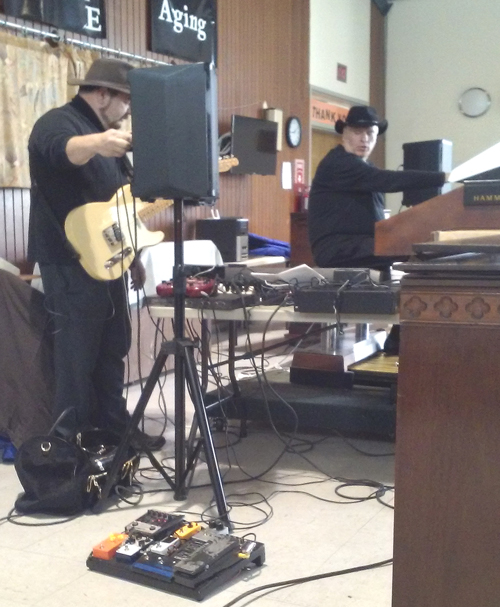 Figure 1. "Mike Stelzen and Jim Gregory doing some last second tweaks prior to playing at our January 2018 concert.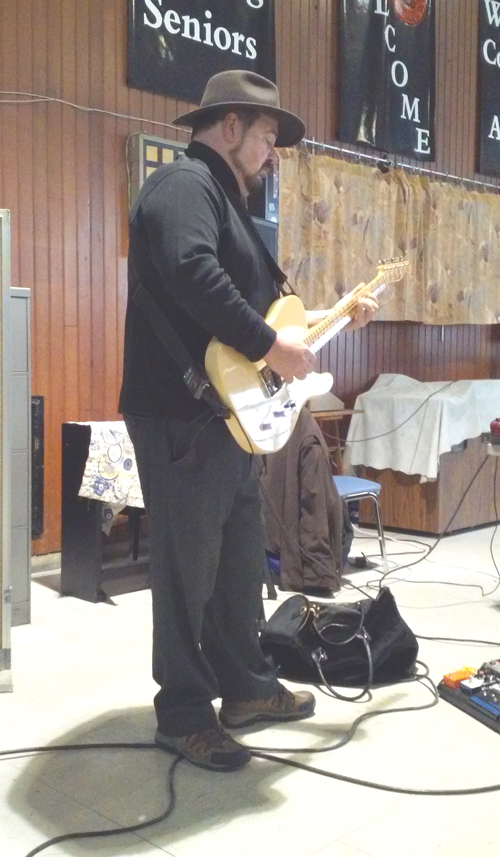 Figure 2. Mike Stelzen effortlessly making his guitar talk. I need to invest in a hat like that!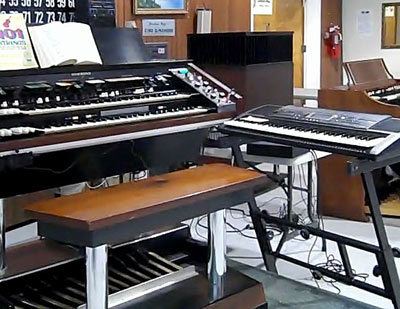 Figure 3. Ready for a concert! X66, Keyboard and in background, our former A100 Hammond Console.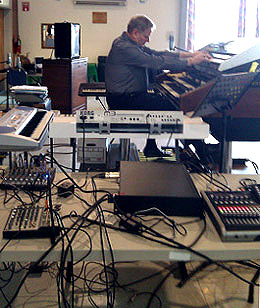 Figure 4. Surrounded by electronic equipment and keyboards, Jim Gregory entertains at our February 2017 concert.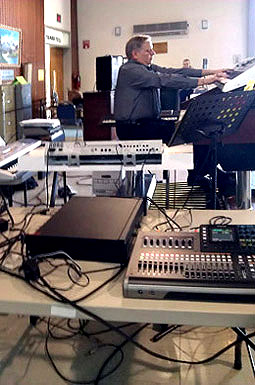 Figure 5. Notice the use of four MIDI equipped keyboards, one on the top of the X66 console, one one each side of Jim, and one behind. All were set up and Jim used all of them at various times in his program. Lots of stuff makes for lots of interest! We regularly think "outside the box" for our programs.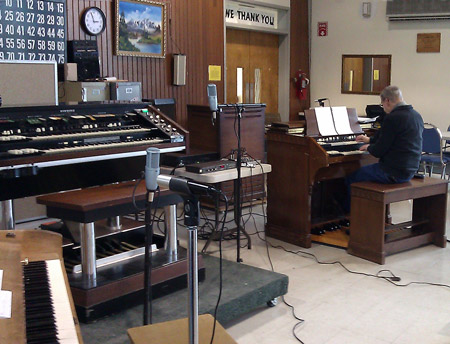 Figure 6. This is an over-all view of the setup we used for our December meeting. In the picture, group treasurer Ed Surette plays on the Hammond C2. A digital signal processor along with a mixer and power amplifier are on the center table, X66 console to left, and on extreme left, the house piano.