The North Suburban Home Organ Society
Eastern Massachusetts Premier Group for Those Who Love the
HAMMOND ORGAN and OTHER
ELECTRONIC KEYBOARDS
Welcome to our new 2017 Concert Season.
Conveniently located in the main auditorium of the WOBURN, MA, SENIOR CENTER
144 School Street, Woburn, MA

Next NSHOS Concert is Friday, Jan 19, @1:30pm 2018 and features

Eric & Elizabeth Larson
NSHOS Pres Eric Larson & wife Elizabeth were going to be the featured performers for this month's program, the first of the New Year. Unfortunately, the ass-hole of seasons, AKA as winter, ruined that program for us by dumping at least a foot of snow in this region. And that, friends, is why SNOW is the worst four-letter word in the English language. Forget about profanities and scatalogical terms. Snow is by far the worst word, for what else can totally louse up your plans, endanger your life if you drive, or otherwise disrupt your entire life? Yes, it looks pretty on a picture, but like so many other things that may look pretty, it represents a danger. But some say to my wife and me, "if you folks don't like N.E. weather, why don't you go someplace else?" And that is exactly what my wife and I hope finally to be able to do in the summer of 2018; move away from here to a part of the country where there is no winter as such. This is of course a huge undertaking; a move across the USA is not something that you undertake lightly, but as we get older, the bitter cold especially becomes harder and harder to take. What once represented joy and fun in childhood has become a serious menace now that we are in our 70s. So far, only lack of money has prevented us from settling elsewhere, but I think 2018 is going to be the year that we can finally afford to do so.
Anyhow, enough about that. Those of you on our postal mailing list, disregard the printed notices that I mailed you. We're going to plan on January 19th instead. Let us hope that winter doesn't affect us adversely on the 19th so that we can continue with our programs.
Unfortunately there is one plan change. My wife, Elizabeth will not be available that day. However, Don Sansom and I will present a duet piano/organ program instead so let us hope that the 19th will be a decent day. Everything presently looks as though the 19th should be OK, and the senior center has given us our usual time slot on Friday the 19th. So will all best wishes for nature's cooperation, we're on for the 19th, usual time and place.
I don't have to introduce Don, everybody who attends our programs knows him, and those of you who are in other locations but follow our web site also know of him and know that he is an excellent keyboard musician and also an entertainer who has been professionally making music for probably 50 years now. I hope you will all be with us this coming Friday to welcome back once again Don Sansom.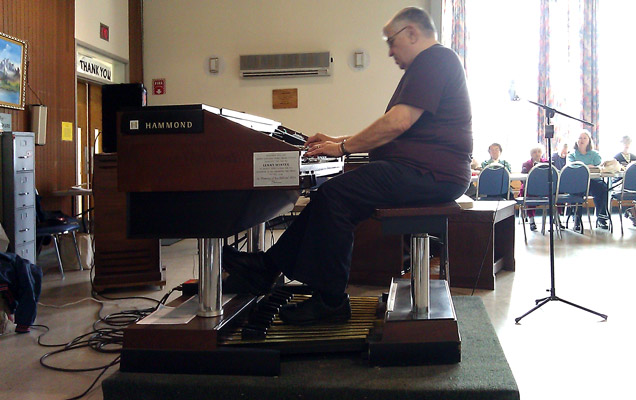 Figure 1. "Big Ed" Wawrzynowicz on the X66 at our February, 2015 Meeting.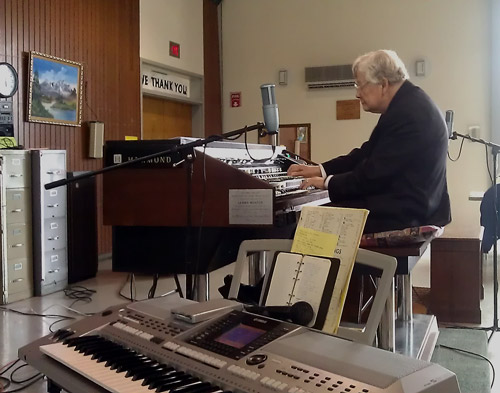 Figure 2. Don Sansom presiding at the X66.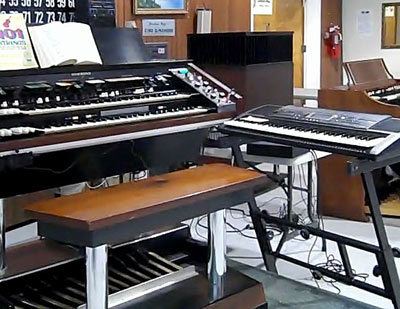 Figure 3. Ready for a concert! X66, Keyboard and in background, our former A100 Hammond Console.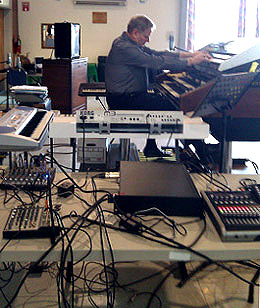 Figure 4. Surrounded by electronic equipment and keyboards, Jim Gregory entertains at our February concert.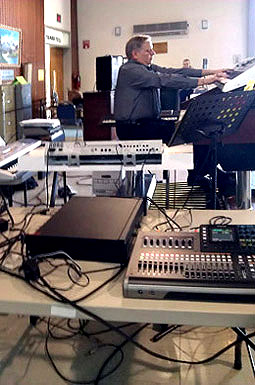 Figure 5. Notice the use of four MIDI equipped keyboards, one on the top of the X66 console, one one each side of Jim, and one behind. All were set up and Jim used all of them at various times in his program.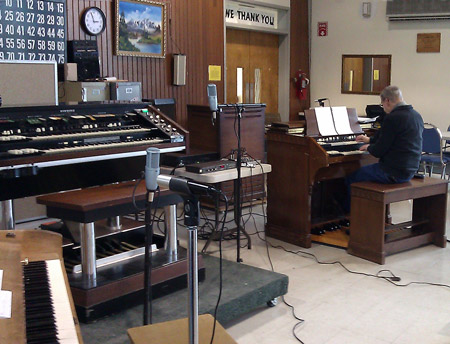 Figure 6. This is an over-all view of the setup we used for our December meeting. In the picture, group treasurer Ed Surette plays on the Hammond C2. A digital signal processor along with a mixer and power amplifier are on the center table, X66 console to left, and on extreme left, the house piano.